Islamic Manuscript Collections in Conflict Zones: Safeguarding Written Heritage
5–7 October 2015, Royal United Services Institute, London, UK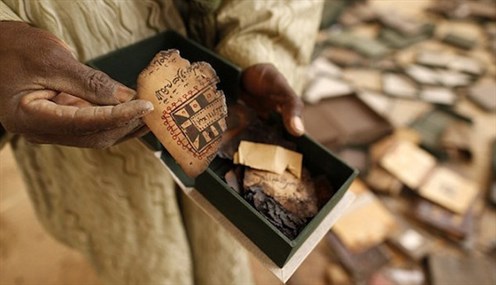 A museum guard displays a manuscript burnt by fleeing occupation forces at the Ahmed Baba Institute in Mali. Photograph: Benoit Tessier/Reuters © The Guardian
The Islamic Manuscript Association in partnership with the Royal United Services Institute is pleased to announce a short course entitled Islamic Manuscript Collections in Conflict Zones: Safeguarding Written Heritage, which will be hosted by the Royal United Services Institute at its premises in Whitehall, London on 5–7 October 2015.
Presented with the support of the Thesaurus Islamicus Foundation, Harvard University, Boston College, and the Center for Environmental Management of Military Lands (CEMML), Colorado State University, this intensive three-day programme will introduce the concepts and mechanisms that underpin cultural property protection (and destruction) in the present day and educate participants in best practices of managing, protecting, and preserving manuscript collections and other properties at risk. 
Case studies will examine incidents of manuscript and book destruction in Bosnia, Iraq, Libya, and Mali, while presentations and roundtables will survey the legal aspects of and military involvement in cultural property protection, the destruction of memory, and the way forward. Topics covered will include the 1954 Hague Convention; military operational planning processes; prosecuting cultural property crimes; developing and implementing no-strike lists; iconoclasm and the erasure of cultural memory; and looting and the trafficking of cultural artefacts.
The course is co-directed by Lt. Col. (retired) Dr Joris D. Kila, Chairman, International Military Cultural Resources Working Group and Senior Researcher, Centre for Cultural Heritage Protection, University of Vienna.
The course is limited to twenty persons. All instruction will be in English. A certificate of attendance will be presented on completion of the course. 
Made possible with the kind support of