History, Highlights, and Access: 
Manuscripts ofthe Islamic World at Princeton University Library, Special Collections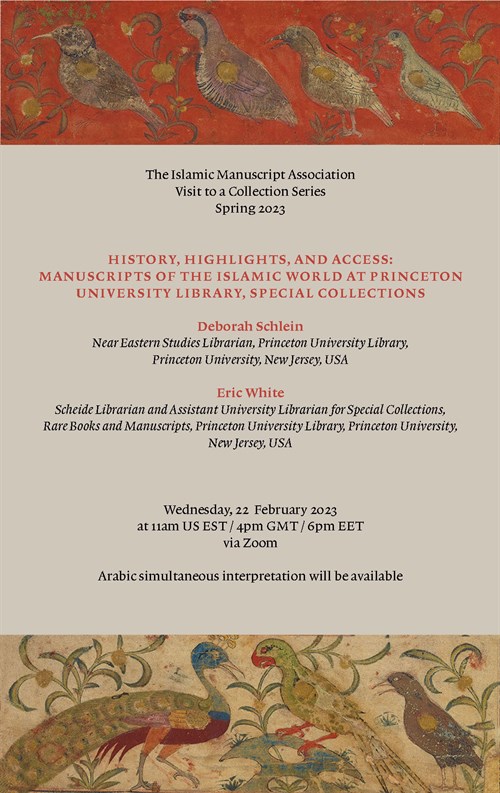 Wednesday, 22 February at 11am US EST /4pm GMT / 6pm EET
via  Zoom
Arabic simultaneous interpretation will be available
Princeton University Library's collection of manuscripts from the Islamic world covers a wide breadth and depth of subjects, centuries, languages, and empires. Deborah Schlein, Princeton's Near Eastern Studies Librarian, will present the history and highlights of the collection, alongside Eric White, Princeton's Scheide Librarian and Assistant University Librarian for Special Collections, Rare Books and Manuscripts, who will introduce and help lead discussion.
Come for the manuscripts. Stay to learn about how you can access them, in both digital and physical format, and see them for yourselves at Princeton University Library's Special Collections.
The collection
Consisting of about 12,000 volumes (16,000 texts), the Manuscripts of the Islamic World collections at Princeton University Library's Special Collections contain items in Arabic, Ottoman Turkish, Persian, Malay, Javanese, Urdu, and other languages written in the Islamic world. The majority of the collections date from the 17th to the 19th centuries.
Projects to make these manuscripts more accessible, from conservation work and metadata updates to digitization and outreach, are ongoing, and those interested in seeing the manuscripts can begin by finding them in the Digital Princeton University Library Manuscripts of the Islamic World collection. For those manuscripts not yet digitized, Princeton University Library's Catalog with a focus on manuscripts is the best place to start.
Speaker
Deborah Schlein joined Princeton University Library as the Near Eastern Studies Librarian in 2020. She received her PhD in 2019 from Princeton's Near Eastern Studies department, where she wrote her dissertation on the history of Yunani Tibb in Mughal and colonial India, focusing on the production and use of Arabic and Persian medical manuscripts. Prior to joining Princeton University Library, Deborah was a Provost's Postdoctoral Librarian Fellow at New York University. She is a senior fellow in the Andrew Mellon Society of Fellows in Critical Bibliography at the University of Virginia's Rare Book School.
Eric White, PhD, became Curator of Rare Books at Princeton University Library in 2015 after eighteen years as Curator of Special Collections at Southern Methodist University's Bridwell Library. A specialist in early European printing, he has published numerous articles and exhibition catalogues on rare books. He won the DeLong Book History Prize from the Society for the History of Authorship, Reading and Publishing (SHARP) on July 12, 2018 for his most recent book, Editio princeps: A History of the Gutenberg Bible, Harvey Miller Publishers (2017).