2023 Visit to a Collection
History, Highlights, and Access: 
Manuscripts ofthe Islamic World at Princeton University Library, Special Collections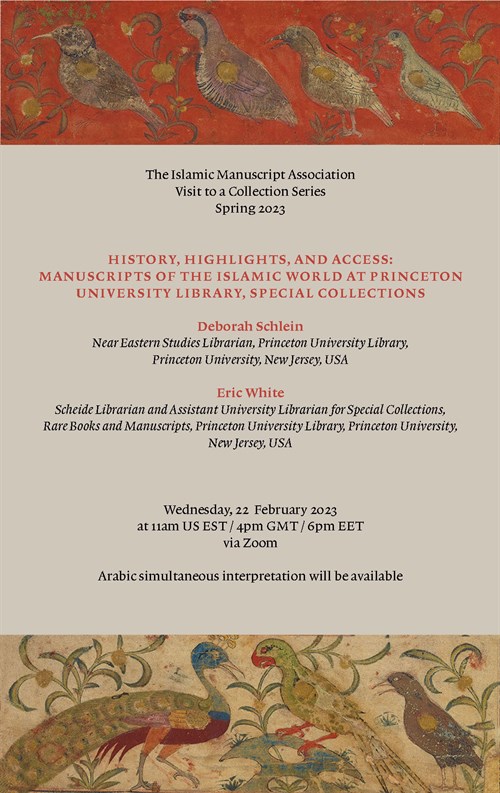 Wednesday, 22 February at 11am US EST /4pm GMT / 6pm EET
via  Zoom
Arabic simultaneous interpretation will be available
Princeton University Library's collection of manuscripts from the Islamic world covers a wide breadth and depth of subjects, centuries, languages, and empires. Deborah Schlein, Princeton's Near Eastern Studies Librarian, will present the history and highlights of the collection, alongside Eric White, Princeton's Scheide Librarian and Assistant University Librarian for Special Collections, Rare Books and Manuscripts, who will introduce and help lead discussion.
Come for the manuscripts. Stay to learn about how you can access them, in both digital and physical format, and see them for yourselves at Princeton University Library's Special Collections.
2023 Upcoming Course 
Arabic Codicology: Islamic Manuscripts from
Saudi Arabia and Beyond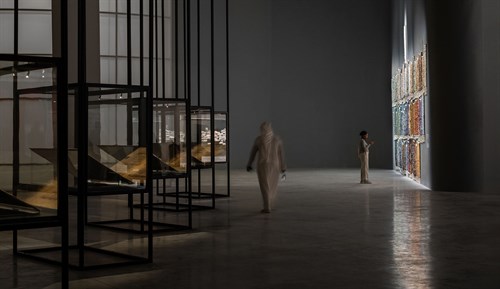 Tuesday, 28 February–Saturday, 4 March 2023, Islamic Arts Biennale, Jeddah, Saudi Arabia
The Diriyah Biennale Foundation, the House of Islamic Arts museum, and the Islamic Manuscript Association – in partnership with the Thesaurus Islamicus Foundation –  announce the course Arabic Codicology: Islamic Manuscripts from Saudi Arabia and Beyond, which will be held from 28 February to 4 March 2023.
This intensive five-day course will be an opportunity to become acquainted with Arabic codicology with the guidance of a world-leading expert on Arabic manuscripts and written culture. Through theoretical and practical sessions, attendees will be introduced to the complex and fascinating field of codicological studies. Understanding Arabic manuscripts requires a wide array of knowledge. The course will offer anyone interested in Arabic manuscripts an in-depth experience that will span from book forms to meta-textual notes, passing through the construction of quires, the different types of writing materials, the nature of palimpsests, and the use of decorative devices, as well as illustrations and diagrams.
The course will be taught by Arianna D'Ottone Rambach, Professor of Arabic Language and Literature at Sapienza-University of Rome, Junior Fellow at the Sapienza School for Advanced Studies (SSAS), and Corresponding member of the Académie Royale des Sciences d'Outre-Mer (Bruxelles).
2021 Virtual Conference
Arabic-Script Manuscripts in Africa
Bibliotheca Alexandrina and The Islamic Manuscript Association—in partnership with the library's Manuscripts Center and the Thesaurus Islamicus Foundation—organized the conference Arabic-Script Manuscripts in Africa, which was held remotely via Zoom at Bibliotheca Alexandrina from 12 to 16 September 2021.
The conference comprised five panels featuring original, current research on the Arabic-script manuscript cultures of North and Sub-Saharan Africa and the care and management of manuscript collections across the continent:
Panel 1, First Session: Historical Traditions of Arabic-Script Manuscripts in Africa
Panel 1, Second Session: Historical Traditions of Arabic-Script Manuscripts in Africa
Panel 2: Manuscript Libraries and Written Heritage Centres in Africa
Panel 3: African Arabic-Script Languages
Panel 4: Cataloguing, Editing, Research and Publishing
Panel 5: Preservation, Conservation and Digitization
Additionally, the conference included five workshops corresponding to the themes of the panels. The organizers will publish presented papers in an edited volume of proceedings.
For more information, please visit the conference's website (asmiaconference.org), and YouTube channel (Arabic-ScriptManuscripts in Africa), and see its Facebook (@Arabic-Script Manuscripts in Africa) and Twitter (@ASMIACONFERENCE) accounts.