Manuscripts and Arabic-script writing in Africa 
Edited by Charles C. Stewart and Ahmed Chaouki Binebine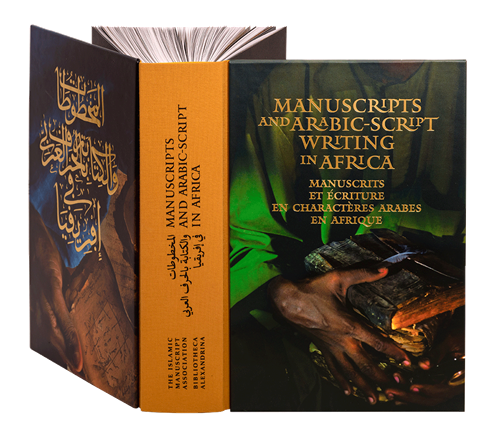 165 x 240 mm
592 pages
Published May 2023 (Hardback)
ISBN Hardback: 
978-1-7392607-0-5
Hardback
£100.00 (excluding shipping)
To order, please contact sales@islamicmanuscript.org
For more information about the shipment fees, please check the courier delivery price list.
The Association is offering a discounted price in support of scholars and institutions, especially those from or located in Africa. To request a discount, please complete and submit this request form.
Manuscripts and Arabic-script writing in Africa 
One of the lesser-known secrets of the African past is the breadth of literary record dating back over four hundred years.  This is a tradition founded on Arabic writing and the writing of African languages in Arabic script, the subject of this volume of essays by eminent authorities on the manuscript cultures of North and West Africa. This unique collection that charts the state of the art in this rapidly expanding field began as a conference, Arabic-script manuscripts in Africa, convened by The Islamic Manuscript Association and Bibliotheca Alexandrina's Manuscripts Center in September 2021. 
The book explores the Arabic script in its widest possible usage in Africa: in Arabic texts; as a sacred Islamic script; and as a script for writing African languages. Through various contributions, the book examines the social impact of Arabic-script writing, aiming to parse the materiality of the book in African societies and to understand African manuscripts in their life cycles from creation to archival shelf.
Essays examine Arabic-script manuscripts as material objects, statements of social values, cultural affirmations, and spiritual companions. They peel back the chronological layers of `ajamī writing that has been used for instruction and cultural and political identity, and remind us of how new technologies enhance access to these manuscripts, just as they present challenges to the intellectual property they represent. Essays are organized into five parts: Manuscript Collections, Manuscript Networks, Manuscripts and Social Values, and Technical Issues; with a concluding essay that identifies the core texts in West Africa's manuscript culture during the past 300 years.