Resources in Translation
The Islamic Manuscript Association's goals include the development, dissemination, and promotion of resources supporting the care and study of Islamic manuscript collections.
At present, much guidance relating to internationally-established best practice in these fields exists only in European languages and is not easily accessible to those responsible for collections of Islamic manuscripts outside Europe and North America. The Islamic Manuscript Association is therefore spearheading the translation of selected key texts into Arabic, Persian, and Turkish. Documents in translation will include fundamental guidance about manuscript preservation and conservation, the ethics of collection care, and emergency response for libraries and archives.
The Association warmly welcomes members' suggestions of other essential texts which would benefit wider audiences in translation.
New! The British Library's Collection Care Guidance Booklet Basic Preservation  Published in Arabic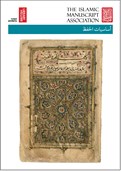 In partnership with the British Library, The Islamic Manuscript Association is pleased to announce publication of the first Arabic title in its series of translations of foundational texts on the care and management of manuscript collections. 
Download Basic Preservation (Arabic e-booklet) here (PDF, 3.9MB) 
Offering invaluable guidance for librarians, curators, conservators, and managers of library, archive, and museum collections in Arabic-speaking countries, Basic Preservation outlines essential considerations regarding the handling, storage, cleaning, security, and environmental control of manuscript collections, and provides a range of resources for further reading. This publication will be followed by Persian and Turkish versions, and by translations of selected further titles from the British Library's Collection Care Series and key documents published by other organisations.  
Basic Preservation is available free of charge as a hard copy booklet (A5 size; ISBN: 978-0-9927381-0-5) or e-publication (ISBN:978-0-9927381-1-2). Please contact the Association at admin@islamicmanuscript.org to request copies of the booklet for personal or institutional use (delivery charges may apply).