Muslim Exegesis of the Bible in Medieval Cairo: Najm al-Dīn al-Ṭūfī's (d. 716/1316) Commentary on the Christian Scriptures. A Critical Edition and Annotated Translation with an Introduction.
Dr Lejla Demiri
Published as part of the History of Christian-Muslim Relations Series, Brill, Leiden, 2012
ISBN: 9789004243163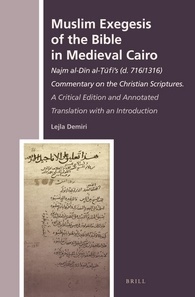 Najm al-Dīn al-Ṭūfī's (d. 716/1316) extraordinary commentary on the Christian scriptures has not received the scholarly attention it deserves. Illustrating the way in which the Bible was read, interpreted and used as a proof-text in the construction of early 14th century Muslim views of Christianity, his al-Ta'līq 'alā al-Anājīl al-arba'a wa-al-ta'līq 'alā al-Tawrāh wa-'alā ghayrihā min kutub al-anbiyā' (Critical Commentary on the Four Gospels, the Torah and other Books of the Prophets) is an invaluable treasure for the study of Muslim-Christian dialogue and its history.

The Islamic Manuscript Association supported the costs of pre-publication revisions, including proof reading and indexing.

The book is available to pre-order from Brill's website.