Arabic Codicology: Islamic Manuscripts
from Saudi Arabia and Beyond
28 February–4 March 2023, Islamic Arts Biennale, Jeddah,
Saudi Arabia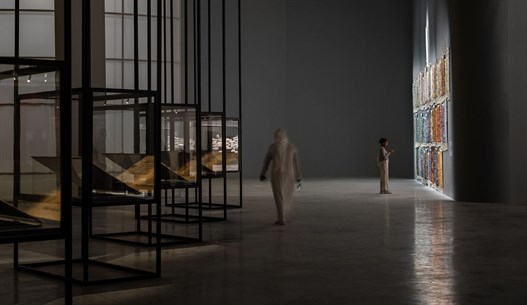 The Diriyah Biennale Foundation, the House of Islamic Arts museum, and the Islamic Manuscript Association – in partnership with the Thesaurus Islamicus Foundation –  announce the course Arabic Codicology: Islamic Manuscripts from Saudi Arabia and Beyond, which will be held from 28 February to 4 March 2023.
This intensive five-day course will be an opportunity to become acquainted with Arabic codicology with the guidance of a world-leading expert on Arabic manuscripts and written culture. Through theoretical and practical sessions, attendees will be introduced to the complex and fascinating field of codicological studies. Understanding Arabic manuscripts requires a wide array of knowledge. The course will offer anyone interested in Arabic manuscripts an in-depth experience that will span from book forms to meta-textual notes, passing through the construction of quires, the different types of writing materials, the nature of palimpsests, and the use of decorative devices, as well as illustrations and diagrams. 
The course will be taught by Arianna D'Ottone Rambach, Professor of Arabic Language and Literature at Sapienza-University of Rome, Junior Fellow at the Sapienza School for Advanced Studies (SSAS), and Corresponding member of the Académie Royale des Sciences d'Outre-Mer (Bruxelles). 
All instruction will be in English; thus, all applicants must demonstrate a strong command of spoken and written English to be able to participate actively in discussions at the seminars and workshops. The full course, including lectures and hands-on sessions, is limited to twenty-five persons, and will appeal to; advanced undergraduate and graduate students, those engaged in post-doctoral research, archivists and curators of collections with Arabic manuscript holdings, specialists in digital humanities and cultural heritage management, art historians, bookbinders, codicologists, conservators, and anyone else researching or working with Arabic manuscripts. 
Registration for the course is free of charge and includes the provision of a Saudi Arabian visa, if required. Applicants must complete the Application Form and, if accepted, will be contacted via email. The deadline for applications is 09.00 GMT Monday, 13 February 2023. Accepted applicants will be notified by Thursday, 16 February 2023.
For any queries, please contact admin@islamicmanuscript.org