Books, Tea, and Baklava: Conserving Turkish Manuscripts in Ireland and Istanbul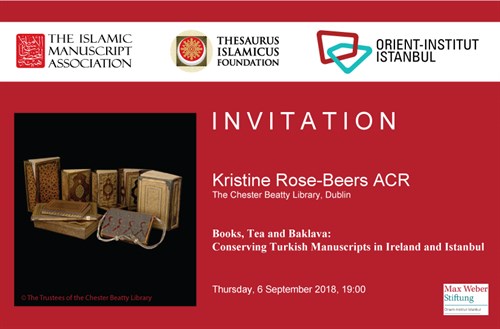 A Lecture by Kristine Rose-Beers ACR, Senior Conservator, Chester Beatty Library and Member, Board of Directors, The Islamic Manuscript Association
Thursday, 6 September 2018, 19.00
Orient-Institut Istanbul
Susam Sok. No. 16, Apt. 8, Cihangir, Beyoğlu, Istanbul, Turkey

The Islamic Manuscript Association—in partnership with the Orient-Institut Istanbul and the Thesaurus Islamicus Foundation—is pleased to announce that one of its directors, Kristine Rose-Beers, will speak about her extraordinary career in conserving and studying Turkish manuscripts.
RSVP: oiist@oiist.org
Abstract
The Turkish Collection at the Chester Beatty Library in Dublin, Ireland, consists of around 200 manuscripts, mainly produced in Turkey and written in Ottoman Turkish. Many of these manuscripts are illustrated poetical and historical texts, and a large portion are beautifully illuminated (though not illustrated) religious texts, such as prayer books. The Turkish Collection includes several of the greatest manuscripts in existence produced in the 16th century, when patronage of the arts by the Ottoman sultans was at its peak.  These manuscripts are of great international importance and are a valuable resource for scholars, students and interested members of the general public.

Conservation treatment priorities in the collection were decided based on the level of damage and deterioration of the manuscripts, whilst taking into account the curator's specific criteria. All treatments undertaken were carried out in light of current standards of best practice in manuscript conservation, notably reversibility, and minimal intervention.

This talk will discuss the conservation of Turkish manuscript collections at the Chester Beatty, as well as the opportunities this work has presented to share experiences with colleagues in the conservation department of the Turkish Ministry of Culture's Public Authority for Manuscripts (Türkiye Yazma Eserler Kurumu Başkanlığı).
Speaker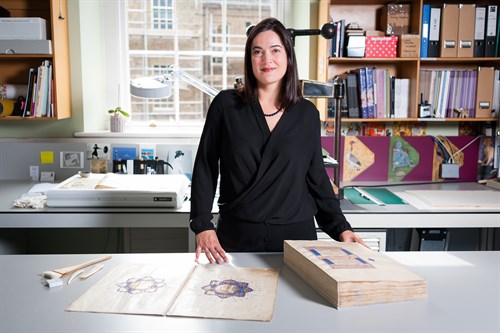 Kristine Rose-Beers ACR is senior conservator at the Chester Beatty Library in Dublin, Ireland, and  an accredited member of the Institute of Conservation (ICON). Kristine graduated from the conservation programme at Camberwell College of Arts, London in 2002 before beginning work at Cambridge University Library, where her fascination with Islamic manuscript material was cemented. In 2008, Kristine started work at the Chester Beatty as book conservator for the Turkish collection, and in 2011 Kristine was appointed assistant keeper (conservator of manuscripts and printed books) at the Fitzwilliam Museum, Cambridge. After four years in Cambridge, Kristine's passion for the unique Chester Beatty collections brought her back to Dublin.
Kristine is an active figure in the field of Islamic and Western manuscript conservation, maintaining an interest in historical methods of dye and pigment production and their relevance to contemporary conservation. She has taught and lectured internationally, and is a regular tutor  at  the Montefiascone Project in Italy.  She is also a member of the Institute of Conservator-Restorers in Ireland (ICRI) and a member of the board of directors of The Islamic Manuscript Association. Kristine has collaborated on several significant research projects, including the Thesaurus Islamicus Foundation and Dar al-Kutub Manuscript Conservation Project at the National Library of Egypt and MINIARE at the Fitzwilliam Museum in Cambridge.
Photography Disclaimer
Please note that photographs and/or video may be taken during this event. By participating in this event you grant the event organizers full rights to use the images resulting from the photography and/or filming, and any reproductions or adaptations of the images, for publicity or other purposes. This might include, but is not limited to, the right to use them in our publications, on our website, and in our social media. If you do not wish to be photographed please inform an event organizer.